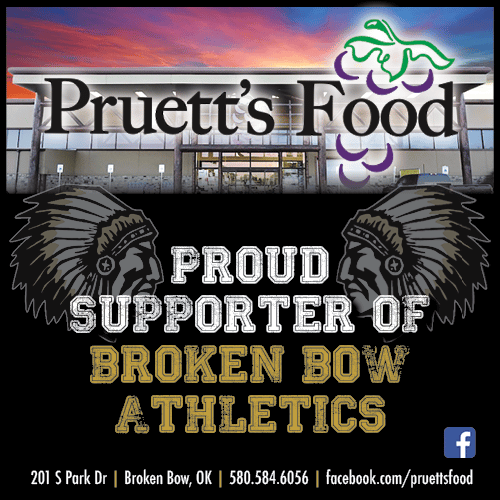 By Bryce McKinnis
Mollie Wallis was a standout golfer at Broken Bow High School, earning All-State honors in 2016 before she signed to play Division I golf at Houston Christian University.
But after a transfer to UCO led to a miserable end to her collegiate golf career, she didn't pick up her clubs for two years. A "horrible experience" by her account, Wallis struggled to mesh in Edmond and lost passion for the sport as a college sophomore.
Two years later, Broken Bow athletic director Kraig Sundberg offered Wallis the opportunity to coach the golf teams at her alma mater. It was an exciting opportunity but, with all she had been through, one she was hesitant to accept.
Wallis also didn't want to interrupt her brother's high school experience. She asked Eli Pruett, then a freshman, for the green light.
"If he said no, I wasn't going to coach," Wallis said.
Without hesitation, Pruett cosigned his older sister's coaching ambitions – "that would be really cool," he said. His confidence made her decision easier.
"I wanted her to coach me because I knew how good she was," Pruett said, "and I wanted to be as good as her."
"I don't see it like I'm living in her shadow. I see it more like she is my mentor and she wants to help me improve my game."
Their coach-player relationship wasn't without error, regardless of their sibling bond. When Pruett made a habit of forgetting his golf bag at home, Wallis penalized him like she would any other player, with sprints or range pickup.
"I don't think anyone would notice that we're siblings at practice," Wallis said.
But she also never spared Eli of the encouragement and feedback he needed to become one of Broken Bow's top golfers.
Pruett is staring down a promising senior campaign, where he hopes to shoot sub-90s. He organizes weekend practices for his teammates. Pruett heralds both his leadership and talent.
"He's making smarter decisions while playing," Wallis said. "As a person, he's become more responsible."
Since coaching at Broken Bow, and while mentoring Pruett and his teammates, the 24-year old has regained the reverence she had for the sport when she was his age.
"Coaching at the high school brought me back out of a dark spot," Wallis said. "Those kids probably helped me more than I did them.
Wallis plans to play in the U.S. Open qualifier after the high school season. Pruett will be on the bag.
"We think we'll have a pretty good, long day together this May," Wallis said.