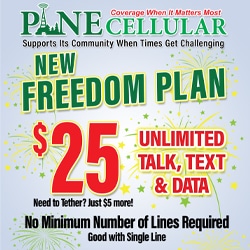 Under the leadership of coach Jimmie Wyrick, the Broken Bow softball team has taken a young squad and is turning them into a salty group of players. This season Broken Bow has picked up some big wins against teams like Sallisaw, Checotah, Idabel, and McAlester to name a few.
Kelsey Cauthron has played the game since she was eight years old. Playing with this team and this group has been a great experience for Cauthron.
"I love how my team loves one another as their sister," said Cauthron. "The season has been up and down throughout. It's been a ride! We have such a young team. Being an athlete at Broken Bow is all teamwork. You come to play the best you can and so does every other athlete."
Coach Wyrick said of Cauthron, "Kelsey returns as our starting pitcher this season. She played a huge part in our team making the state tournament last year."
In the classroom, Cauthron takes the same approach to her studies.
"My academics are very important. I want to play college softball and I'm going to need the academics to be successful at that," said Cauthron. "My favorite subject is English, but I enjoy all my classes."
Softball is not the only activity she is involved in. Cauthron also plays basketball for Broken Bow and she is a member of the Student Council. She gives credit to her parents for making a big impact in her life.
"My parents have been a major impact on me, mostly my dad. He does everything he can to make sure I succeed and be the best I can be," said Cauthron.